Content
MoU between PKN and EOS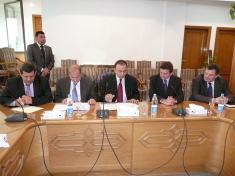 The Polish Committee for Standardization (PKN) and the Egyptian Organization for Standardization and Quality (EOS) have signed Memorandum of Understending on 30th June 2011 in Cairo. The agreement was signed by the President of PKN, Ph.D. Thomas Schweitzer and the President of EOS, Ph.D. Hany Barakat. The signing ceremony was attended by the Polish Ambassador, Piotr Puchta and the First Secretary of the Embassy, Tomasz Przygoda.
Delegates visited the Polish Embassy in Cairo and met with the President of the Egyptian-Polish Chamber of Commerce and a representative of the Egypt Ministry of Economy, Ph.D. Albert Nagy. After the signing,PKN representatives visited EOS headquarters and its research laboratories.
The visit has encouraged the exchange of valuable experiences in the field of standardization, and the signed agreement should have a positive impact on the further development of economic cooperation between Poland and Egypt, and become a yet another element to build positive relations with, between these two countries.