Brief about Kyrgyz Project of PKN
Content
Brief about Kyrgyz Project of PKN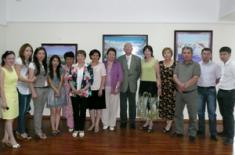 In 2013, the Polish Committee for Standardization, for the first time, took part in international aid and training project within the framework of development cooperation falling under the responsibility of the Polish Ministry of Foreign Affairs.
PKNconducted a training project: "PKN's assistance toKyrgyzstan concerning the internationalization of enterprises through the implementation of European standards in cooperation with the Kyrgyz Ministry of Economy and Antimonopoly Policy". The project had been carried out in cooperation with two partners from Kyrgyzstan – Ministry of Economy of the Republic of Kyrgyzstan and the Kyrgyz Center for Standardization and Metrology.
The project officially started on 14th of May 2013, after the funds for its implementation had been provided by the Ministry of Finance. Project, which came to an end on December 31st 2013, had been completed with a smaller budget than initially planned.
During the implementation of the projecta series of trainings had been conducted on topics previously agreed with the Kyrgyz partners of PKN. Training covered the following topics: harmonization of national standards with European and International standards (including procedures); functioning of the EU Single Market, application of European Standards and technical regulations in regard to the free movement of goods; implementation of European Directives in the field of construction, implementation and practical use of Eurocodes in construction; introduction and application of ISO 22000 and HACCP (risk analysis and critical control points) in food trade.
All trainingswere conducted by Polish experts in the capital of Kyrgyzstan – Bishkek. Experts had carried out eight trainings thereby achieving the fulfillment of six different aid goals. All experts involved in the project were engineers with significant scientific and professional achievements possessing extensive knowledge and experience in the field of standardization in Poland and Europe.
As the result of the projecta total number of 149 people have been trained (about one-third more than expected before the start), including 58 representatives of administrative staff and 91 entrepreneurs. Participants gained unique knowledge in selected topics, and received materials which they can use in their own work or with the purpose of training otherpeople.
The direct objective of the project with respect to administration was to train Kyrgyz experts so that they can implement European Standards and technical regulations as well as conduct harmonization of national standards with European and International Standards. The direct objective of the projectwith respect to business was to train Kyrgyz entrepreneurs in the principles and requirements of the European standardization and conformity assessment for manufacturers and exporters from outside the EU in order to improve their competitiveness.
The project should be considered successful. Polish Ministry of Foreign Affairs, as an institutionsupervising the implementation of the project, approved the final report on the implementation of PKN's project.