Plenary meeting of ISO/TC 107
Content
Plenary meeting of ISO/TC 107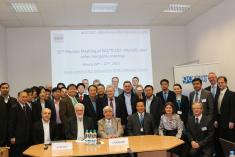 On 24 – 27th of March 2014, at the seat of the Polish Committee for Standardization in Warsaw, a plenary meeting of ISO/TC 107 "Metallic and other inorganic coatings" and the meetings of its following subcommittees were held:
ISO TC 107/SC 3 "Electrodeposited coatings and related finishes"
ISO TC 107/SC 4 "Hot dip coatings (galvanized, etc.)"
ISO TC 107/SC 7 "Corrosion tests"
ISO TC 107/SC 8 "Chemical conversion coatings"
The event was financed by the Institute of Precision Mechanics in Warsaw. A total of 66 delegates from Europe and Asia participated in the aforementioned meetings.