Content
CEN/TC 172 meeting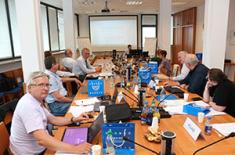 On 9th of June 2015 in PKN's headquarters in Warsaw a CEN/TC 172 Pulp, paper and board plenary meeting took place.
Representatives of French, German, UK, Swedish, Austrian and Polish standards bodies and the European Research Papers Archive representative took part in this event.
At the meeting it was decided to appoint a new Chairman of CEN/TC 172. Dr Ralph Derra became the new Chairman. The participants also discussed about further work of the committee after revising EN standards.
At the end of 2015 part of this work will be subject to electronic voting.
The meeting was organized in Poland on the initiative of CEN/TC 172.