Lublin became a Smart City
Content
Lublin became a Smart City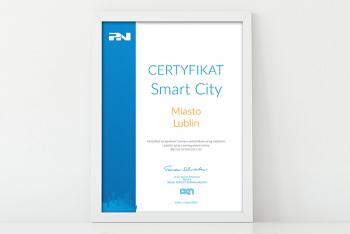 Lublin has received a certificate for a Smart City for being compliant with the PN-ISO 37120 standard - Sustainable development of communities -- Indicators for city services and quality of life. Every city has a chance to be a Smart City.
We wish cities provided friendly, healthy space meeting our needs and responding to emerging problems. Therefore their development should be sustainable. How to create a city that is competitive, energy-efficient, ecological, modern and is a good place to live in?
If you are unable to measure something, you are unable to manage it effectively
Effective and efficient management by measuring outcomes of activities in a comparable and verifiable way fosters the development of a city, enables better strategic planning and, finally, ensures comfort and residential stability.
PN-ISO 37120 standard
The PN-ISO 37120 standard helps the city authorities to manage and assess outcomes of actions taken in relation to city services and quality of life, thanks to the use of coherent and normative indicators. The indicators included in the standard provide a single approach to what should be measured and how the measurement should be carried out. Based on the measures, positive changes that increase the development, higher effectiveness, higher quality and increased income may be introduced.
How to start?
Polish Committee for Standardization developed "Programme of voluntary certification of conformity of measuring indicators for city services and quality of life with the requirements of PN-ISO 37120". More information on how to prepare for certification can be found on Smart Cities tab on the PKN website.
Why is it worth?
The certificate of conformity with the standard for smart cities increases the credibility of cities on financial markets, attracts investors and may help to apply for European Funds. Both the citizens and the local authorities may benefit from it.
It is time to start implementing intelligent solutions and best practices of applying them to meet the needs and lifestyle of citizens.