Commemoration of the first President of PKN – Piotr Drzewiecki
Content
Commemoration of the first President of PKN – Piotr Drzewiecki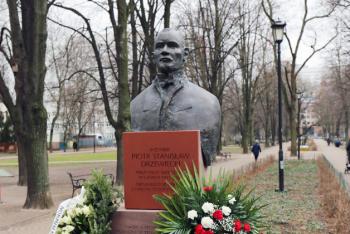 Piotr Drzewiecki was the first President of Warsaw on the brink of independence, as well as the first President of the Polish Committee for Standardization. He successfully fulfilled himself in many social and professional roles.
The role that Eng. Piotr Drzewiecki played in the work for Polish standardization cannot be overestimated. On his initiative, in 1923, the Technical Committee on the standardization of industrial products and their delivery was established. In 1924, the Polish Committee for Standardization (P.K.N.) was established, with Piotr Drzewiecki as its first President. He built this institution from the ground up and managed it efficiently – working out the strategy of operation, taking care of the state of finances. During his presidency, PKN did not limit itself only to domestic matters - it also joined the trend of international standardization activities.
The Social Committee for the Commemoration of the President of Warsaw (1918-1921) Piotr Stanislaw Drzewiecki, has already undertaken several years ago measures aimed at honoring him with a bust in Mirowski Park in Warsaw.
On March 2, 2023, the ceremonial unveiling of the monument was held. The event was attended by members of Piotr Drzewiecki's family, as well as invited guests: representatives of city government and public organizations and offices, culture and art.
Among those who spoke about the activities and contributions of the honored person were Ewa Mańkiewicz-Cudny - President of the Polish Federation of Engineering Associations (FSNT-NOT), Tomasz Bratek - Deputy Mayor of the City of Warsaw, Teresa Sosnowska – Vice- President of the Polish Committee for Standardization, and Professor Marian Marek Drozdowski - representative of the Society of Warsaw History Enthusiasts, author of books and many publications about Piotr Drzewiecki.
The symbolic unveiling of the monument was carried out by the vice-president of the City of Warsaw, president of FSNT-NOT, P. Drzewiecki's great-granddaughter, and former PKN president Tomasz Schweitzer.
Representatives of the city hall, Polish Engineering Association and PKN laid wreaths and bouquets at the monument.
The ceremony ended with the reading of letters from Adam Struzik - Marshal of the Mazowieckie Voivodeship and Rafał Trzaskowski - President of the City of Warsaw.