Baltic Standardization Forum – BSF 2023
Content
Baltic Standardization Forum – BSF 2023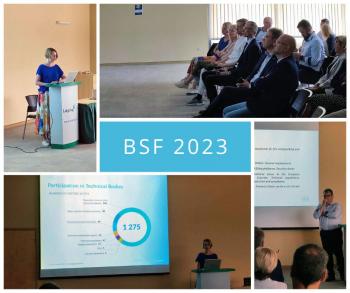 This year the Baltic Standardization Forum (BSF) was held between August 23 and 25. This is an annual meeting of representatives of National Standardization Bodies from Lithuania (LST), Latvia (LVS), Estonia (EVS) and Poland (PKN). This year, the meeting was hosted by Latvia, which invited guests to the town of Daugavpils.
The main goal of BSF is the development of a common standardization policy by the Baltic states, as well as undertaking joint actions and initiatives on the European forum. It is also a good time to share one's achievements and exchange experiences with the participants of the meeting, who consist of representatives of the management of standardization bodies and employees who are specialists in the field covered by the meeting's agenda.
During the BSF, representatives of PKN talked about, among other things, changes in the IT infrastructure introduced to optimize the process of developing standards and standardization deliverables, promoting a voluntary standardization system, as well as international cooperation.
Next year, the Polish Committee for Standardization will be the host of the BSF. See you there!