May 20 th - Polish Standardization Day
Content
May 20 th - Polish Standardization Day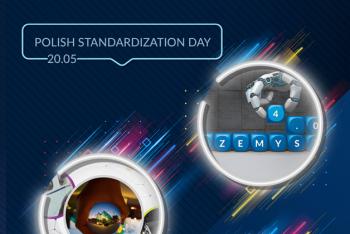 The year 2020 brought a new challenge to the whole world - the fight against the SARS-CoV-2 virus pandemic.
As a result of top-down restrictions and constraints, the plans and actions of governments, organizations, institutions and each of us have changed. Every year, the Polish Committee for Standardization organized a thematic conference to celebrate the Polish Standardization Day. Although we cannot meet at a joint conference, we hope that soon everything will return to normal and again we will be able to talk about standardization within the milieu of experts, practitioners and users in the context of important issues and changing trends.
It's been 10 years!
Polish Standardization Day was established in 2010 on the initiative of the President of the Polish Committee for Standardization. It is an opportunity to promote the idea of ​​voluntary standardization and highlight the benefits of using standards. It is also a form of honouring all persons and entities actively participating in Polish standardization, including government administration bodies, business organizations and representatives of science and technology.
Standards around us
There is no need to convince anyone that standards are present in every area of ​​our lives. Standardization covers technological, technical, social, economic, management, environmental and many other issues. So far, we have been able to talk about standards in the context of interesting and current issues, e.g.
Industry 4.0 (2019)
Food quality and safety (2018)
Smart Cities (2017)
Safety at work (2016)
We hope that standardization will continue to bring together active participants in standardization work and motivate to set new directions for its development. And the Polish Standardization Day will invariably be a holiday for all of us - creators, users and beneficiaries of the standards.